Which is the Best Film School in the UK?
Which is the best film school in the UK? Mentioning just one name is not enough or may be biased opinion. As there are plenty of educational institutions in the United Kingdom which offer film studies program.
However, in this article I will notify some of the best film school names in the UK and their brief description. Have a look.
Types of Film School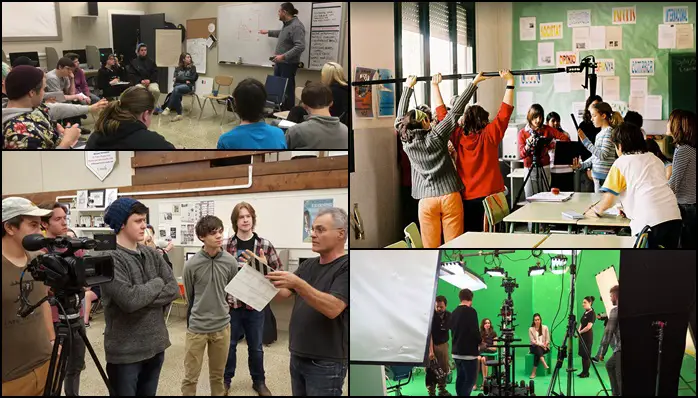 Film schools basically offer the learning opportunity of crafting a production. They provide both academic theory knowledge & practical experience of filmmaking. Through given assignments from institution students come to know how to write screen writing, how to handle the whole process of film making as well as post production. Besides, students of film school can learn about film history and film theories.
A film school may be part of an existing public or private college or university, or part of a privately-owned for-profit institution. Depending on whether the curriculum of a film school meets its state's academic requirements for the conferral of a degree, completion of studies in a film school may culminate in an undergraduate or graduate degree, or a certificate of completion. Some institutions, both accredited and non-accredited, run shorter workshop and conservatory programs.
3 Best Film Schools in the UK
In the United Kingdom there are some world-famous film schools like National Film and Television School, Metfilm School, London Film School, London Film Academy, University of the Arts London, Arts University Bournemouth, University of Westminster etc. You may feel interest to learn about them in detail. In the following, I am going to suggest only top 3 best film schools among them.
1. London Film School
London Film School is recognized as one of the world's key graduate film schools. For over sixty years London Film School (LFS) has been the place for emerging creative talents all over the world. The graduate students from this school engage directly with the vibrant UK media industries. Besides, LFS graduates established in film and television production in more than eighty countries.
This film school situated in a converted brewery in Covent Garden, London, neighboring Soho, a hub of the UK film industry. It is the oldest film school in the UK. LFS was founded in 1956 by Gilmore Roberts.
This film school is providing a hothouse environment for intense creative works. It offers various degrees at postgraduate level: an MA in Filmmaking, an MA in Screenwriting, and, in partnership with the University of Exeter, an MA in International Film Business and a PhD in Film by Practice. It also offers a range of short and part-time professional development courses under the LFS Workshops banner.
Their MA programs in Filmmaking, Screenwriting and International Film Business recognized by Creative Skillset as industry standard and at a level of professionalism that has delivered the school the status of a Film Academy. The school is one of only three such academies in the UK.
2. National Film & Television School
National Film and Television School (NFTS) is television and film studies school established in 1971. Based in Beaconsfield, about 90 minutes outside Central London, NFTS has more than 30 MA, diploma, and certificate courses and is definitely one of the big institutions of film studies in the UK. MA courses can cost around £14,300 a year for UK students and £30,000 a year for overseas students.
Students are taught by industry professionals in a fully working studio complete with dubbing theatres, advanced edit panels and other facilities. They are encouraged to develop a solid understanding of how their specialist role fits into the overall process of project development, production and program making. All practical learning is carefully unified with seminars, workshops and other activities.
The school's former students are Oscar winner Nick Park, cinematographer Roger Deakins and including notable directors such as Lynne Ramsay. This educational institute attracts students by top names for instance, Christopher Nolan. Likewise him many renowned director worked here as a lecturer. Director Alex Garland was named the school's associate professor, a creative figure head for the NFTS student body. Consequently, NFTS is featured in the 2018 ranking by The Hollywood Reporter as the top 15 International film schools.
3. MetFilm School
MetFilm School is a private film school based in London within Ealing Studios. It is a world-leading film, television and online media school which offers undergraduate, postgraduate and short courses in London and Berlin. The London campus is based at the Ealing Studios which is famous for well-known productions.
The film school's mission is to inspire a new generation of creative professionals. They bring the education and screen industries together in a creative environment, driven by great teaching and practical hands on experience led by expert film professionals.
Whichever course student may choose, whether it's for 3 years or a weekend. They look forward to welcoming students to the school and giving them full support to become a smart creative screen person.
Windup
Each course offered by the above-mentioned film schools help the students to express their creative skills. Unfortunately, some people cannot afford to attend such film schools. Instead of, there is still chance to be a part of the film industry. Well, don't give up. Film industry and media houses always look for new talent. Moreover, there are lots of organizations where you can learn about alternative routes of filmmaking. Best wishes!