Looking for a movie location that is both spooky and scenic? Look no further than the movie Tombstone. So, where was the movie tombstone filmed? If you're curious about where your favorite movie was shot, read the whole blog.
In this blog, you will be able to read about the filming locations of Tombstone, as well as some interesting facts about the movie. Whether you're a tombstone enthusiast or not, these facts are sure to be of interest!
Tombstone: Film Summary
Tombstone, a 1993 film, is a classic western movie that has been watched by many over the years. It tells the story of Wyatt Earp, his brothers, and their fight against the Cowboys.
Wyatt Earp (Kurt Russell) and his brothers, Morgan (William Paxton) and Virgil (Sam Elliott), have left their gunslinger ways behind to settle down in Tombstone, Arizona, and start a business. When they become targets of the ruthless Cowboy gang, however, they aren't looking for trouble. The brothers now pick up their guns to restore order to a lawless land, this time alongside Wyatt's closest friend, Doc Holliday (Val Kilmer).
Cast & Crew
George P. Cosmatos directed the 1993 American Western film Tombstone. Kevin Jarre was the scriptwriter who was also the initial director, but was replaced early in production.
The prominent casts of the film are Kurt Russell as Wyatt Earp, Val Kilmer as Doc Holliday, Sam Elliot as Virgil Earp, Bill Paxton as Morgan Earp Powers, Boothe as "Curly Bill" Brocius, Michael Rooker as Sherman McMasters, Michael Biehn as Johnny Ringo, Charlton Heston as Henry Hooker, Jason Priestley as Billy Breakenridge, Jon Tenney as Sheriff Johnny Behan, Billy Zane as Mr. Fabian, and Stephen Lang as Ike Clanton.
The majority of the film was filmed in Arizona. In May of 1993, filming started. Kevin Jarre, the screenplay writer, was supposed to make his directing debut with this project, but he was quickly outpaced by the workload and fell behind the shooting schedule.
Even though all characters remained on board by the time of Cosmatos' arrival, The new director brought a tough, no-nonsense attitude to the set that clashed with some of the crew (particularly cinematographer William Fraker).
Kurt Russell, meanwhile, cut down Jarre's lengthy screenplay by deleting subplots and emphasizing Wyatt and Doc's relationship while working closely with producer James Jacks.
Filming Locations Of Tombstone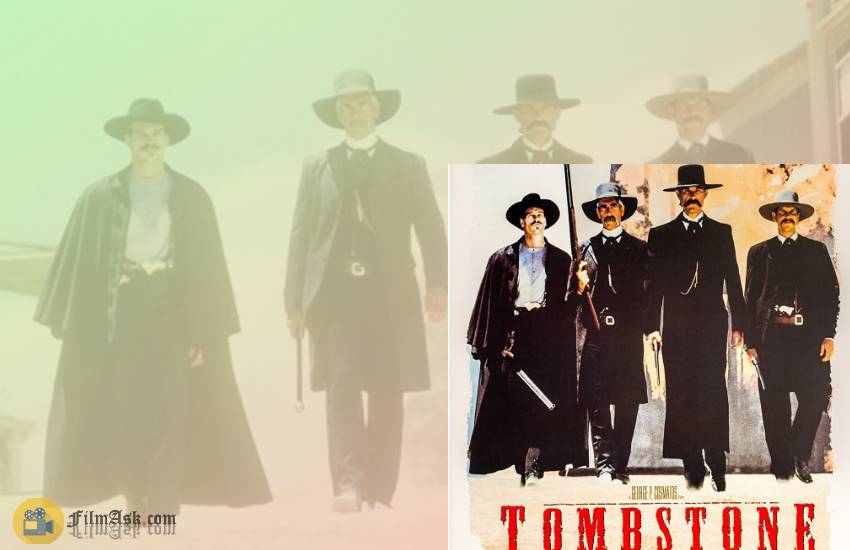 Tombstone is a classic western movie that was released in 1993. It was filmed in several locations, some of which you may not have known about. Here are some facts about Tombstone filming locations.
The movie was shot in Monument Valley, Utah.
The shootout at the OK Corral was filmed at the old O.K. Corral in Tombstone, Arizona.
This classic Western was filmed in and around the small town of Tombstone, state of Arizona, and the surrounding areas are sierrita mountains, little dragoon mountains, sonoran desert, texas canyon, and whetstone mountains.
The shootout at the saloon was filmed at the old Copper Queen Saloon in Globe, Arizona.
The movie's opening scene was filmed at the old Cochise County Courthouse in Douglas, California.
10 Interesting Film Facts Of Tombstone
If you're a fan of old westerns, then you'll probably be familiar with the movie Tombstone. Released in 1993, Tombstone is a classic that centers around a gunfight at the O.K. Corral. If you're curious about the film's origins, or just want to learn some interesting facts about it, read on! Here are 10 interesting film facts about Tombstone:
1. Tombstone was filmed in the town of Tombstone, Arizona.
2. The gunfight at the O.K. Corral was based on a real event that took place in 1881.
3. The town of Tombstone was a filming location for the movie, and many of the buildings still stand today.
4. Wyatt was to be shown as a guy who used psychology to intimidate in the scene where he hurls an aggressive card merchant (Billy Bob Thornton) out of a bar. Thornton was simply instructed to "be a bully," so he improvised his lines in the scene.
5. During production, there were several deaths (mainly due to accidents), which added an extra layer of reality to the movie experience for audiences worldwide.
6. The shootout scene at OK Corral has been frequently imitated by filmmakers since its release.
7. Tombstone is the first Western film to be shot in China, and it was also the first American-produced feature film ever filmed in Sichuan Province.
8. The gunfight at the OK Corral between Wyatt Earp (Depp) and outlaw Johnny O'Brien (Pieter Meyers) was rehearsed multiple times before shooting began on location.
9. The movie was a box office success, raking in over $130 million worldwide.
10. Tombstone is a cult classic that has been enjoyed by many for years. It tells the story of a gunfight at the O.K. Corral, and the subsequent trial of the six men involved.
How Has Tombstone Been Interpreted Over The Years?
Tombstone is one of the most popular Western movies, and it has been interpreted in some different ways over the years. Some people view it as a celebration of violence and revenge, while others see it as an epic story about friendship.
Regardless of your opinion, there's no denying that this movie is sure to entertain. The plot follows five friends who head out to Tombstone for the gunfight of the millennium – aka The Gunfight at O.K Corral. Although they were promised killers' row seats by their boss Doc Holliday, things quickly go wrong when guns start flying instead!
From there on out, the film becomes a fast-paced journey through shootouts and chases as these unlikely heroes try to survive long enough to reach Holliday's store before it shut down forever.
Read more: Where Can I Buy Shrink Film?
FAQs About Where Was The Movie Tombstone Filmed
If you are more enthusiastic about the Tombstone film locations or other information evolving the movie then keep reading the below FAQs too.
What is this film all about?
The film, "The Help" is a drama about the domestic servants who worked in the homes of white families in Jackson, Mississippi during the early 1960s. The film was directed by Tate Taylor and written by Emma Stone and Ryan Coogler.
Where is the movie's prime set for Tombstone?
Tombstone's prime set is in the town of Tombstone, Arizona, which is located in Cochise County, Arizona.
Is Tombstone movie historically accurate?
While the movie Tombstone is loosely based on an empire ranch true story, it is not an accurate portrayal of what happened.
For example, while Wyatt Earp and Doc Holliday were involved in the shootout at the O.K. Corral, neither one was killed. In real life, Earp only sustained minor injuries and continued to fight throughout the country until his retirement in 1929.
What are some of the most famous scenes from Tombstone?
The most famous scenes from Tombstone are the shootout at the O.K. Corral, the hanging of Billy the Kid, and Doc Holliday's last stand. The shootout at the O.K. Corral is widely considered to be the most famous event in Western history. The hanging of Billy the Kid is also well known, as is Doc Holliday's final stand.
Where was the mountain scene in Tombstone filmed?
The iconic mountain scene from Tombstone was filmed in tucson mountains and dragoon mountains- a national monument located near Phoenix, Arizona.
Was any real tombstone filmed in the movie Tombstone?
While no tombstone was filmed in Tombstone, many props were used in the filming process. These included gravestones, mausoleums, and even an obelisk.
Where Was The Movie Tombstone Filmed? Last Words
Meanwhile, you know that Tombstone was filmed in the town of Oatman, Arizona. Or that it was the first movie to be shot in widescreen? We've already revealed several interesting facts about Tombstone that you might not know.
So, you must enjoy learning everything you need to know about this classic western movie. Do not forget to leave your thoughts and comments below, we would love to hear from you!