What is the best comedy film ever? This answer varies from person to person.
Since so many classic comedy films have been made so far, it is very difficult to name a specific one. But in this article, I will only discuss about a comedy film that is the last best comedy film I've ever seen. I am not imposing my opinion that it is the only best. Rather, it can be said it is one of the best comedy films from my favorite comedy movie list.
Then let's not be late to know which film is it. Keep reading. It can match to your preference also.
Home Alone: The Most Popular Christmas Comedy of All Time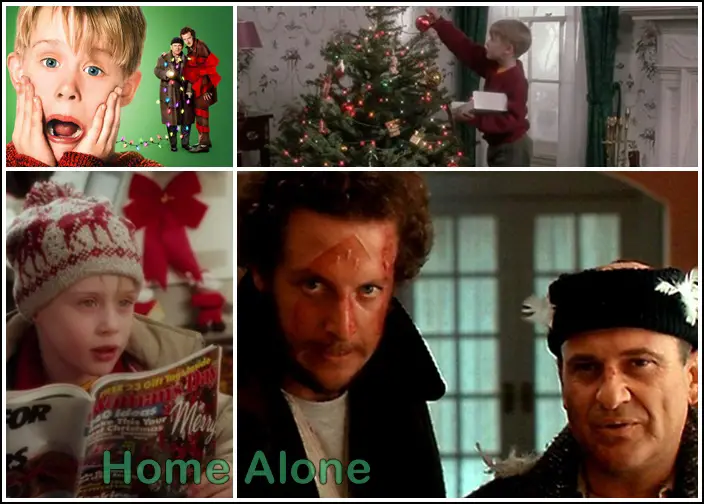 Home Alone is an American Christmas comedy film written and produced by John Hughes and directed by Chris Columbus. The film released in 1990. Macaulay Culkin plays the lead role Kevin. He was nominated for a Golden Globe Award in the Best Actor category for his performance in the film. The film also received two Oscar nominations in the music category.
It is difficult to say exactly how popular this film was after its release. Let me present some primary information about this comedy film.
Primary Information
The film ruled at the box office for 12 consecutive weeks since its release in November 1990.
The film shown in various theaters in the United States for 9 consecutive months.
Until 2011, it was the highest-grossing live-action comedy in the United States.
Within days of its release, Time magazine wrote about the film, "The undisputed conqueror of the Christmas movie season."
Many film critics consider Home Alone as the best Christmas-themed film of all time.
The film released 30 years ago but still exists in the list of favorite comedy film of many film lovers.
It has already received the all time favorite classic comedy film recognition from many film scholars.
Interesting Facts
The most famous poster of this film where Kevin seems screaming. The scene inspired by Edvard Munch's famous painting 'The Scream'.
When the second installment of the Home Alone movie was being shot, Macaulay Culkin was only 12 years old. He was paid 4.5 million to act in the film! This is the world highest record salary of a 12-year-old actor!
One of the most popular scenes in the film is of Tarantula sitting on Marve's face and he was screaming in fear. Daniel Stern, who plays Marv, agreed to 'OK' the scene with just one shot, and instead of actually screaming, he just had to mimic the scream during the shooting. Because if the screamed in real, the spider would be afraid and run away. Later, dubbed scream placed in Marve's face!
Joe Pesci, who plays Harry character in the film, deliberately avoids Macaulay during the shooting, so that Macaulay thinks he is truly a bad guy.
The picture of Kevin Buzz's girlfriend, was not a girl. Director Chris Columbus thought it would be cruel to make fun of a girl in a film. Yet the story needs it very much. So he did not take any girl, but presented the son of the director of the film as a role of Kevin's girlfriend.
Plot
The McCallister family will go to Paris for the Christmas holidays. The plan is to stay out of the house the night before leaving Chicago, led by Peter and Kate, with a bunch of kids. But sadly, Kevin, the youngest son of the Peter-Kate couple, continues to be neglected. At one point, Kevin got into a fight with his older brother Buzz and made the whole family dinner spoiled.
As his punishment, he was sent to the attic of the house. He has to spend the night there. Disappointed Kevin continues to curse his mother. He wished his family would disappeared! That became the reality in the next morning. The McCallister family was in hurry and reached to the airport as it was too late to wake up. They were about to forget that Kevin was not with them.
In the middle of the flight, Kate first notices that Kevin is missing. After landing in Paris, she went to Chicago to buy a return ticket. But, all the tickets booked for the next two days. With a lot of effort, she could get a plane ticket to Scranton, Pennsylvania. But even after landing there, there are no tickets to Chicago. Seeing her plight, the lead member of a music band invited her to go to Chicago in a van with them. She had to agree as she had not any better option.
Meanwhile, when Kevin wakes up in the morning and discovers that the house is empty, his mind filled with joy. In that sense, his wish came true. His family truly disappeared. This time he will be able to chase and enjoy the newly found freedom. But his joy did not last long. But why…?
You will find the answer to this question by watching full movie.
Why I Consider it as Best Comedy Film?
Home Alone was an important part of the childhood of the 90's kids. Present generation young people also accept this film cordially. When the Christmas season comes, the name of Home Alone is inevitably on the watch list of many people. What is the reason behind this? Let's find out.
An Ideal Family Movie
First of all, Home Alone is a family movie. A movie that everyone in the family can watch together. Parents can undoubtedly watch this film with children sitting together during the holiday season. In addition to, the depth of the story of this film is also the reason to become this film popular. This film is not made just for entertainment purpose. If we think a little more carefully, we can see what a wonderful expression of family emotion has taken place in this film.
Plot is Engaging and Relatable
Kevin despised by his siblings for being the youngest in the family. This experience is something that many of us can relate. When Kevin confined in the attic, his anger towards his family members erupts. He hopes that all his family members will disappear. When that really happens, at first Kevin was happy but as time goes on, Kevin missed his family a lot. When everyone else is having fun with the family in Christmas, he was alone in dealing with the danger. This real life hard situations nicely depicted in the film.
Depth of the Story
This film also worth watching to observe how a little kid is slowly becoming matured by handling threats. At one point he admits that all the blame is not only of his family members, but also of his own. This self-realization is the most important part of the story.
Educative Lesson with Strong Message
The good aspects of human character also expressed in this film. For example, think of the man in the form of Santa Claus. As he prepares to return to his own family after a long day's work, Kevin goes to see him and begins to talk about his helplessness, but he didn't get irritated. Instead, he tried his best to give Kevin courage. Another helping hand was Gus Polinski, the band leader. Seeing Kate desperately looking for a way back to Chicago that extends a helping hand. In times of danger you can get help from someone you never imagined, this is the message we get through this film.
Proper Utilization of Visual Story Telling Tools
This is film with a wonderful screenplay. You will rarely see a holiday comedy whose screenplay is so engaging and fast-paced. Despite having so many layers in the plot of the film, the story does not hang just because of nice direction and cinematography. Director Chris Columbus really deserves praise for this. It is only possible for him to bring out such impeccable performances from child artists.
The set, lighting, sound and all other visual story telling tools properly used in this film that also deserve appreciation. Last but not the least, there are some tremendous dialogue in this film which made this film memorable.
Final Thoughts
Although Home Alone initially was no plan for making sequel, its widespread popularity turned it into a franchise. A total of five films from the series released so far. Chris Columbus directed the first two installments. Then Raja Gosnell, Rod Daniel and Peter Hewitt were in charge of directing the next three installments. Home Alone: ​​The Holiday Heist, is the latest installment of the series which released in 2012. However, despite the release of so many installments, the first one which released in 1990 is still at the top of popularity.
It is easy to predict that no other comedy film will be able to share the excellence of this film in the next few decades. So, who have not seen the film yet, the upcoming Christmas season is the suitable time for you to watch this film with whole family. This film will give you pure entertainment for sure. However, those who have seen it many times before, they can watch it again as it is such a film which can be watched again and again without monotony. Have a good time!