How Long Does it Take to Film a Movie? Let's straight come to the answer without any introduction. This is not actually fixed or certain amount of time to end a movie shooting. It varies from film to film.
It depends on many factors like budget, location, weather, crew and cast, unavoidable circumstances like epidemic and management of all other settings. Though there is no certain amount of time for a film shooting, I am giving here an approximate idea about how long the Hollywood films take average time to shoot.
Each and every film passes through some key steps. Such as, Announcement, pre-production, principal photography/ actual shooting, post-production, release and distribution. Making a movie is more than just filming. Pre-production and post-production can take months or even a year. Besides, writing a screenplay for an adaptation or an original idea can take more times than filming.
How Long Does it Take to Film a Movie: Insights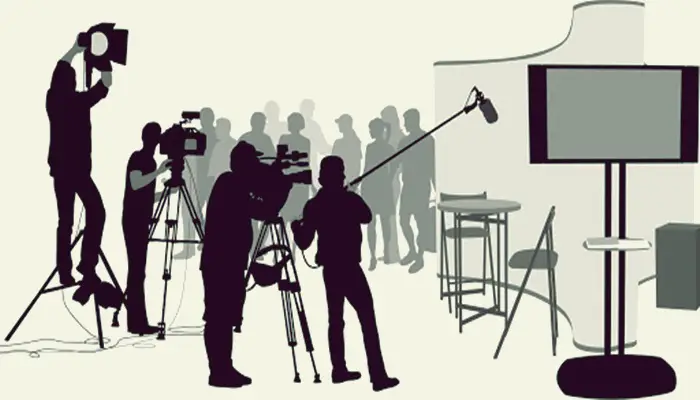 The average production announced 871 days before it is eventually in cinemas. Pre-production takes 146 days, principal photography takes usually 106 days and post-production begins 301 days before the films hit the big screen.
According to Wikipedia, the average length of principle photography of Hollywood studio movies from 2006 t0 2019 are given below. This approximate ratio sorted out by different genres of films.
Horror Film- About 80 days to shoot
Romantic Film- 85+ days
Drama- 90 days
Comedy- 90+ days
Crime- About 98 days
Thriller- 100+ days
Sci-Fi- About 120 days
Fantasy- 120+ days
Family- 120+ days
Action- 120+ days
Adventure- About 140 days
Animated Film- Time may vary in the case of animated films because there are a few different ways to film an animated movie. Animated films take much longer time to complete than live-actions. Pre and post-production can take the same amount of time. It may take four to seven years to complete a 90-minute animated movie. This type of films take more time than other genres because more mental creative works are involved here.
The ratio clearly indicates that indoor films like horror or romantic take short span of time to shoot whereas outdoor location or technology based films need big amount of time.
Epic Movies that Took Shortest Span of Time
Victoria (2015)
Victoria technically only took around four hours to shoot. It is a German crime thriller film directed by Sebastian Schippe. The film probably one of the few feature films shot in a single continuous take.
Little Shop of Horrors (1986)
Little Shop of Horrors took only three days to make. It is a 1986 American dark comedy musical film directed by Frank Oz. All the scenes in this movie filmed at Pinewood Studios in England. The film grossed $39 million at the box office.
Halloween (1978)
John Carpenter's horror masterpiece shot in just 20 days. Much of the filming completed using a Steadicam(camera stabilizer) and with a new camera that allowed the filmmakers to move around spaces smoothly. Moreover, Halloween nominated for the Saturn Award for Best Horror Film by the Academy of Science Fiction, Fantasy & Horror Films in 1979. In 2017, Complex magazine named 'Halloween' the best slasher film of all time.
Birdman (2014)
Birdman, is a 2014 American black comedy-drama film. Alejandro G. Iñárritu directed it. The film's principle photography took only 23 days and the editing process took just two weeks. In spite of that quality of the film didn't lessen. Rather the film received critical acclaim, with praise for the performances of the cast. However, Birdman won the Academy Award for Best Picture, along with Best Director, Best Original Screenplay, and Best Cinematography from a total of nine nominations.
Moonlight (2016)
Barry Jenkins's Moonlight shot in South Florida within 25 days only. Even some actors completed filming all of their scenes in just three days. On the other hand, the short shooting schedule clearly did not affect the quality of filmmaking, as it did in 2017, winning the Oscar for Best Picture.
5 Movies with Longest Production Time
The Thief and the Cobbler (1993)
This animated film took 28 years to make! Director, Richard Williams, started the project in 1964. But due to insufficient funding, he filmed only some scenes at the beginning. However, the film eventually handed over to someone else and released finally in 1993.
Boyhood (2014)
Richard Linklater's Oscar-nominated 'Boyhood' was probably his most challenging film. Furthermore, he made a courageous decision to shoot the film over 12 years on a continuous basis to capture the character transformations accurately.
Eyes Wide Shut (1999)
Stanley Kubrick's last film 'Eyes Wide Shut' took over 4 years to make. This film also recognized for the longest continuous shoot of 15 months. It is basically an erotic mystery psychological drama film which gained critical and commercial success.
Samsara (2011)
'Samsara' is an American non-narrative documentary film. Ron Fricke directed and Mark Magidson. produced the film. However, It filmed in about 25 different countries and the principle photography took around 5 years to finish.
The Fall (2006)
Tarsem Singh's 2006 film, 'The Fall' was clearly a patient project that took over 4 years to complete. The visually appealing film has also been ranked among the most beautiful films of all time. In addition to, the film was shot in exotic locations over 20 countries and was produced mainly by the director. Financial crunches was the main reason of delayed duration of shooting. Though the film commercially failed but got recognition later for its aesthetic value.
Final Words
I hope you enjoy the write up. May be this written content help you to understand that how long does it take to film a movie usually. If you enthusiastic to read such contents related with film or film industry, keep your eyes open to my upcoming informative articles. Happy read 🙂